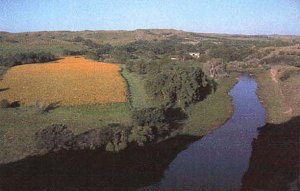 Stay in our quiet cabin along the Heart River in southwest North Dakota.

2,000 scenic acres where you can enjoy fishing, hunting, horseback riding, bird watching or just walking the hills in the great outdoors. The air is fresh and clean and you can see for miles.

Try tubing down the river in the summer or cross country skiing & skating in the winter.
Available for reunions, family gatherings, picnics or a much needed vacation where you can slow down and enjoy nature. Abundant wildlife such as; whitetail deer, pheasants, turkeys, sharptail grouse, and many song birds. You might hear coyotes howl and frogs croaking along the river and there is always the chance that you may happen across nighttime Fireflies. Bring your camera for some great shots.